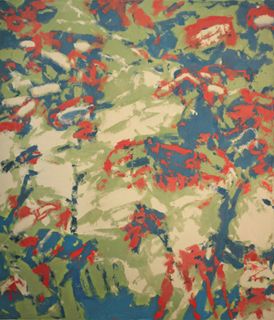 Artist Statement and Reviews
"We work in the dark -we do what we can- we give what we have, our doubt is our passion, and our passion is our task. The rest is the madness of art."
Henry James
During my more than 50 years as a painter I have maintained a consistent commitment to the old-time religion of modern art. Modernism retains for me its capacity to be inventive, daring and, above all, self-expressive. I do not approach the canvas with any stylistic intentions; whatever is distinctive about my painting derives from the working process. Although my work is abstract, it is always referential to the natural world. The foliage around my Water Mill home on eastern Long Island is generally the source for the original motifs. The studio is the laboratory where observation evolves into an aesthetic object. Every mark is a speculative act; uncertainty spurs possibilities, only to have them become mired in incoherence. I must bring method to the madness: the creation of a well constructed picture that relies on the tendency of color, shape, texture, etc. to strike metaphorical connections to the real world of palpable space and energy. It is through this orchestration of the visual language that emotion is communicated. If my painting "works" it should stir the viewer with feelings that are subtle, elusive and mysterious. The viewer may be originally engaged by some allusion to nature, but only in a spirit of examination will the painting be seen on its own terms. We look (recognize) before we are able to see (examine) because that's how vision works.
Gerald Monroe
________________________________________________
SELECTED PARTIAL REVIEWS
The New York Times, July 22, 2005 (Michael Steinberg Fine Art)
Gerald Monroe has been painting since the 1950s. The deft paintings in his first New York show in four years display the dignity and restraint of a man who spent all those past decades of chaotic pluralism doing what he always meant to do. And that is to make "art as an efficient communicator of feeling." He is boldest as a colorist, particularly when damped-down bubble gum pink bumps against construction-site orange or an old farmhouse blue dissolves into the red of rotting leaves. There is an eerie energy to "On Deer Path." Its lozenges of electric blue against flaring light suggest that you can't always keep danger out of the studio, and maybe you shouldn't.
New York Times, January 12, 2001 (Donahue/Sosinski Gallery)
A deft colorist who is skilled at harmonizing atonal color combinations, Gerald Monroe has based this series on piles of dead leaves. Taking off from the shifts and interactions of leafy forms, he has made spirited arrangements that that involve subtle interplay of shape and color. Particularly pleasing about these works is the infectious exuberance with which the artist brings off his intricate color play.
New York Times April 5, 1998 (Parrish Art Museum)
For its centennial celebration the Parrish Art Museum asked five of its former curators to come together as a distinguished panel. The project attracted an amazing 690 entrants. Forty-one were selected. Several artists seem to be making notable additions to abstract traditions. Gerald Monroe combines both structure and unpredictability in paintings based on the swift movement of particles that looks like an inventive recasting of paint gestures.
New YorkTimes July 25, 1993 (Bologna-Landi Gallery)
Skies serve as Mr. Monroe's starting point for a series of canvases that seek painterly parallels to the sensory qualities in a seemingly infinite variety of cloud patterns. There is a respect for nature combined with a knowledge of paint as an independent subject. The distribution of light though tonal nuances and inventive illusions of texture emphasizes the artist's carefully controlled translations of the theme.
East Hampton Star July 29, 1993 (Bologna-Landi Gallery)
The paintings are both beautiful and true, as well as abstract, allowing the artist manipulation of all elements -- totally abstract with color and forms close to the surface, flat, sparse, and at the same time intensely visual.
New York Times March 20, 1988 (Donahue/Sosinski Gallery)
Mr. Monroe clearly loves Monet; every local lily pond and dappled glen remind him. Woven in a tight brocade of blue-greens and oranges, their rippling brushwork ultimately rests within the parameters of abstraction. Flaming fall colors, blue shadows under a tree, the scarlet edges on a mass of lily pads: these are barely evoked, like a recollection hazy in its specifics. Generous, cautious and lyrical without being demonstrative, they reveal their inner light only after quiet observation.
East Hampton Star Thursday June 9, 1988 (Benton Gallery)
This shift toward the representational energizes the paintings considerably. One thinks of Giacometti's obsessive forming and reforming of faces. Mr. Monroe presents us with a similarly complex look not only at the different ways a face can be seen, the different ways volume and line can be used, but of the process of making a portrait.
New York Times July 26, 1987 (Guild Hall Museum)
Things are calmer in the paintings of Gerald Monroe although a sensitivity toward rhythmic, dynamic order is also evident... the kind of abstraction that distills shape, force and energy from nature. Mr. Monroe frequently uses his wildflower garden as a starting point. The newer of his two distinctly different series seems more daring and exciting.
East Hampton Star July 16,1987 (Guild hall Museum)
Gerald Monroe's delicate brushstroke and color, gently and thoughtfully infiltrating each other's air, create a radiating surface of the canvas itself as a metaphor for earth-sky colors mingling and the artist's perception of it.
Southampton Press July 30, 1987 (Guild Hall Museum)
Gerald Monroe's work is filled with light and aims for Impressionistic near transparency. Like blurred, magnified flowers, or light on a garden, these longish oval forms move diagonally across the canvas like migrating amoeba on a microscope slide. The paintings bring to mind sections of Monet's Water Lilies paintings.
New York Times March 12, 1978 (Newark Museum)
With the canvases and charcoal drawings it is difficult not to see more than meets the eye. Even though these works are abstractions for the most part, they are richly suggestive. For some, the origin of these canvases might spring from nature. They are poetically atmospheric, embracing us like visible air. The different shades vibrate back and forth; they also have the apparent property of being able to project, to extend beyond the surface into the observer's area. The result makes us feel as if we are surrounded by and bathed in color. It is in the drawings that Mr. Monroe reveals his affection for nature. They have at once an energy that appears free and yet is unobtrusively structured. Like the paintings, these drawings make their mark for a lyricism that is controlled by a talented esthetic discipline.
Philadelphia Inquirer Oct. 5, 1975 (New Jersey State Museum)
Gerald Monroe is an abstract expressionist and this style of painting is almost impossible to describe. It just has to be seen. For the most part the paintings seem joyful and express a great understanding of color and a sense of motion, a strong love and understanding of color and a sense of balance.